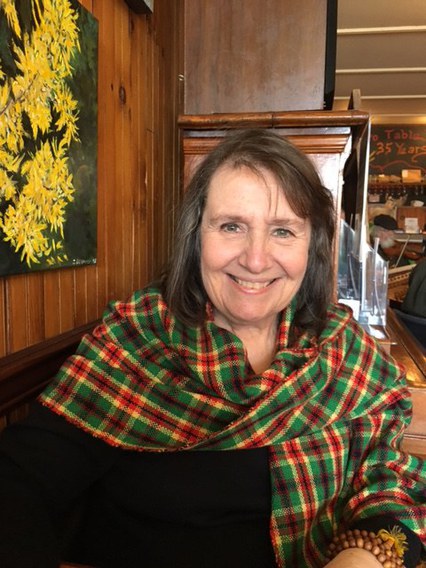 About Betty Tuininga
Tuininga is a native of New Hampshire having come to Binghamton in 2003 to attend BU as an Art History Graduate student.
She began painting with watercolor in the early 1990's. Creativity and art have always been a part of her world. While now much of her painting now reflects her love of a thick impasto and the influences Post Impressionists and Expressionists movements, she finds her art historical background frequently comes into play when searching for new ideas.
While the influences may not necessarily be purposeful, her recent collages have really came about because of her love for the medium and the work of German Dadaist Kurt Schwitters. His work was based on found objects…she said hers are also found…found in boxes from her own collections, online, in junk shops, etc. While in the eyes of some, the collages are absolutely nonsensical…given time and mindfulness, the objects are apt to transport you to a momentary place and time.
Tuininga is also known for a unique technique in painting using oils and cold wax which produces a thick textural appearance. "I find people cannot resist touching my paintings. The texture of the paint, wax and the vibrant swirls of color enliven the viewer's spirit. The impressions left by the palette knife draw their eye and their mind into the heart of the painting." She said that she wants her work to bring joy into the lives of the people who view my work." Although she says she occasionally makes political statements with her work, she is not about complex theories. "My objective is to simply share the emotional "joie de vive"! If she can accomplish that goal then it brings pleasure to her life as well.
If you enjoy a landscape painting with thick impasto, a whimsical collage with a thought provoking message, a colorful photograph to brighten a corner of a room or a peaceful stone Zen Sculpture…welcome to the creative world of BJ Tuininga Fine Art. http://www.bjtuiningafineart.c...
ART CV
Education: 2002 BA Art/Graphic Design, magna cumma laude, Keene State College, Keene, NH 2003-2005 History of Art and Architecture History, Binghamton University, Binghamton, NY
Grant/Awards: 1986 Awarded Blue Ribbon for "Iris" by New Hampshire Art Association/Boscawen Old Home Day, Boscawen, NH
Solo Exhibitions: 1996 "The Windows of Penacook," Penacook Public Library, Penacook, NH, 2007 The Family & Children's Society, Binghamton, NY, 2008 Nezuntoz, Binghamton, NY, 2008 Know Theatre, Binghamton, 2009 River Muse Café, Binghamton, NY, 2010 Black Bear Winery, Chenango Bridge, NY, 2010 Krebes Gallery, Binghamton General Hospital, Binghamton, NY, 2011 Java Joe's, Binghamton, NY, 2012 Broome County Library, Binghamton, NY.
Group Exhibitions: 1986 Boscawen Old Home Day Art Show, Boscawen, 2001 "Emerging Artists," Thorne Sagendorph Gallery, Keene, NH; 2002 "Emerging Artists," Thorne Sagendorph Gallery, Keene, NH; 2002 "Passionate Pursuits" Thorne Sagendorph Gallery, Keene, NH; 2007 "Passionate Pursuits After Dark," The Terracota, Binghamton, NY; 2008 "The Artists of Winchester," Winchester Historical Society, Winchester, NH; 2008 "The Stars Come Out," The Mad Hatter, Binghamton, NY; 2009 "The Rude and Bold Women" (juried) Stephens Square, Binghamton,NY; 2010 WSKG's" Art in Motion," (juried), Corning, NY; Ithaca, NY; Hornell,NY; Cooperstown, NY; Binghamton, NY and Mansfield, PA.; 2010 Jewish Ethnic Festival (juried), Vestal, NY; 2012 Broome County Arts Council Member Exhibition, Binghamton, NY; 2013 Cooperative Gallery 213, State Street, Binghamton, NY 13901; 2014 Off the Wall Exhibit, Cooperative Gallery 213, State Street, Binghamton, NY 13901
Collections: Mr. and Mrs. Albert Coutu Mr. and Mrs. Rodney Doolittle Mr. and Mrs. Paul Speed Ms. Patricia Curry Wilson Mr. George Radcliffe Mr. Michael Curry Mr. and Mrs. Paul Doolittle Ms. Debra Pouliet The Winchester Historical Society Mr. and Mrs. Francis Farnan Mr. and Mrs. Robert Valway Granite State Independent Living Mr. and Mrs. Wayne Morse Ms. Laura Tuininga Mr. and Mrs. Cole Tuininga, Carol Golembeski Wendy Parker Jeff Kahn Jesse Rives
Murals: 1992 500th Anniversary of Columbus's Discovery of America, Community Mural, Ashuelot, NH; 2007 Mural design and painting, "Hot Air Balloons," Harvey Justice Building Construction Boards, Binghamton, NY; 2009 Mural for Center City Neighborhood Assembly. Artist-in-Residence. Binghamton, NY.
Teaching Experience: 2001 Art History Seminar on "Picasso and His Influence on Modern Art." Keene State College, Keene, NH 2002 Art History Seminar on "Max Ernst and the Surrealist Movement," Keene State College, Keene, NH 2006-current Teaching private watercolor lessons
Artist-In-Residence: 2009 Mural for Center City Neighborhood Assembly. Binghamton, NY
Employment: self employed as Graphic Designer, Fine Artist, and Photographer. She also is an Herbalist